Aaliyah would have been 43 years old today. "The whole thing about this business is you can't lose your sense of self," Aaliyah once told a reporter. And it's true. Aaliyah never lost herself or changed for anybody. On the contrary, the artist changed the world around her, with her effortless unique style in and out of music, whose impact still reverberates today.
Today marks what would have been Aaliyah's 42nd birthday. Only 22 years old at the time of her death, the singer had already revolutionized the music industry with her forward-thinking mix of R&B, soul, pop, and hip hop. And how do you begin to unpack her impact on fashion? Her strong, individual perspective has become synonymous with '90s style.
Daringly androgynous and sexy at once, with boyish swagger and street sensibility, Aaliyah set the stage for the Rihannas, Kendall Jenners, and Jorja Smiths of the subsequent years. Whether you're sporting your Calvin's, oversized leather jackets, or like your jeans real baggy, best believe Aaliyah has informed some part of your fashion identity.
While Aaliyah is gone way too soon, her iconic style is here to stay. Here are 10 ways it's still relevant today.
Itty-bitty crop tops
Scrolling through outfit throwbacks, we noticed there are two things Aaliyah always brought to every outfit: her own point of view and a crop top. The bare midriff trend has lasted beyond the '90s but was undeniably one pioneered by the pop star. With the simple flash of skin, Aaliyah elevated many of her boyish outfits to sexually assertive and confident new heights.
And pair that with low-rise jeans
In fact, Aaliyah pushed the crop top trend to its extremes, by frequently pairing the item with extremely low rise jeans. While the low-rise trend was deemed a no-go with the literal rise of high-waisted jeans in recent years. If 2020 has taught us anything, it's that having your pants sitting dangerously low on your hips is definitely back.
The singer's affinity for jeans is another cornerstone of her inimitable style. A pair of jeans often served as the finishing element to reign in any fit into her signature laid-back territory.
In a 1994 interview with MTV, Aaliyah explained "I'm mellow so my style matches that. I am a laid back person, which is what I portray on camera. It's not much of a difference so that's why it's so easy." She even almost wore jeans to her prom, claiming "I hate skirts…I wear skirts when I go to church."
Your underwear is part of your outfit
Aaliyah took sagging to new heights — or lows if you want to be literal. While other female celebrities of the subsequent years pushed an entirely different underwear-cum-outfit agenda, with the visible thong trend, Aaliyah kept it laid back with a pair of boxers (usually Calvins) peeking over the edge of her pants.
The baggier the pants, the better
Take a page out of Aaliyah's tom-boy book and ditch those skinny jeans, please. Throw out all the fashion rules you thought you knew about tailored pants and try the next size up.
Actually, make everything baggy
Take embracing the roomy silhouette one step further by keeping things oversized from top to bottom. Aaliyah didn't care about looking like other girls; she had her own point of view. While many other artists at the time felt corporatized and dressed for maximum male gaze appeal,  the singer often went the other way by dressing down and preferred comfortability, rocking every day older brother pieces instead.
Logos are your friend
Aaliyah was part of an early wave of Black tastemakers bringing high fashion brands into the streetwear arena. When the singer signed a deal with Tommy Hilfiger in 1996, she was the first R&B act to land a major endorsement of that kind. The deal expanded the brand's DNA into the streetwear arena and created a style that is still relevant today.
Aaliyah flaunted her collaboration with the American fashion magnate, not shying away from wearing head-to-toe Tommy with excessive logos. And the logomania trend is one to stay, proving that luxury fashion brands are much more at home on the street than on inaccessible runways.
Dress like a baller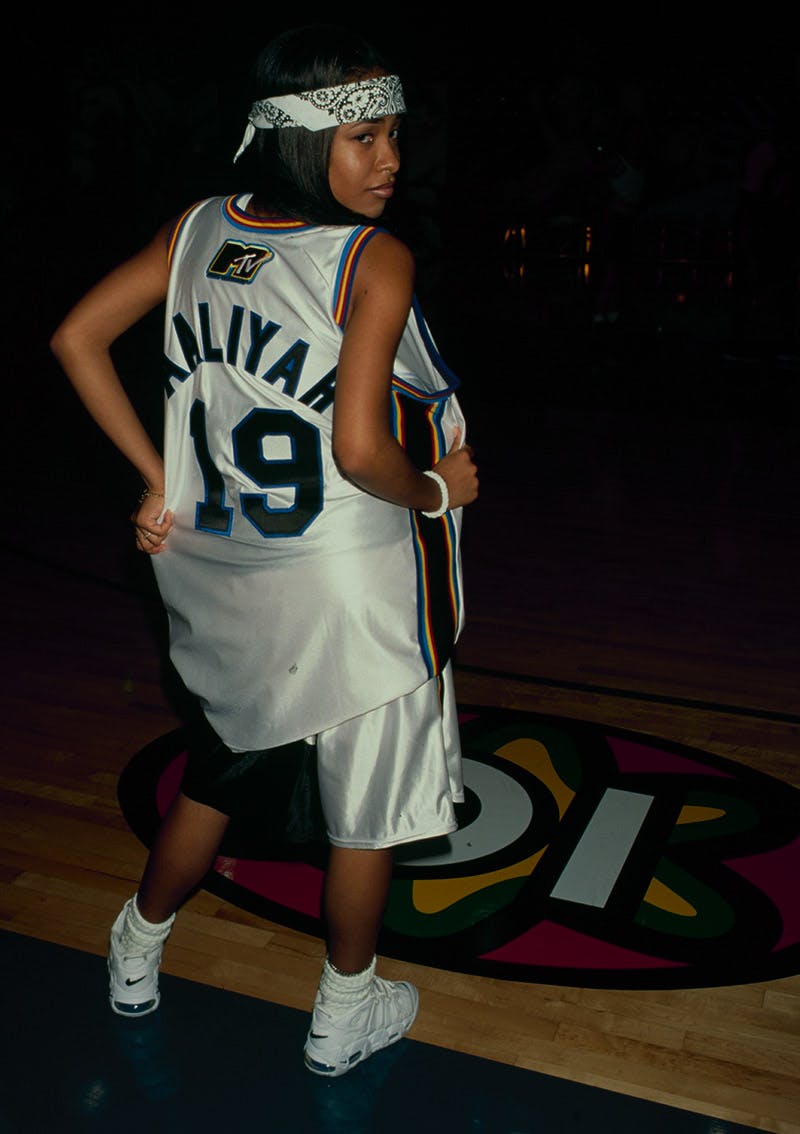 Forget "athleisure" and "sports-casual." Aaliyah took her sports style inspirations to heart, often duplicating the on-court looks of players and ballers with her own over-sized jerseys. Many of the pop star's street style moments are lessons in incorporating sportswear into everyday looks.
When in doubt, color coordinate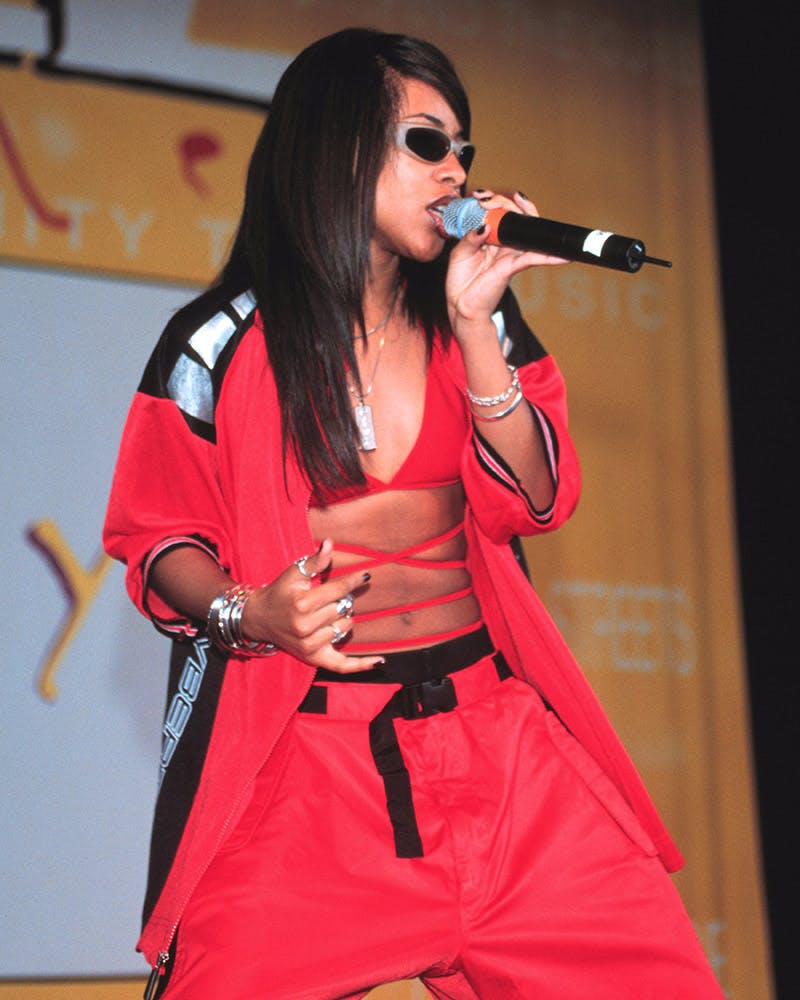 Whether it's all-black, all-white, or something a bit more daring, Aaliyah usually kept things monochromatic. This simple style tip can elevate almost any ensemble into a put-together fit. And don't shy away from brighter colors either, the singer's red monochromatic look pictured above proves that you can still keep things casual by pairing a bright colorway with baggier silhouettes.
Embrace leather
It might seem like a fashion taboo, but head-to-toe leather is a vibe. Fine, maybe you don't need to go all the way, but the singer often used leather accents to give her casual looks Gothic notes and a dystopian vibe. Adding a black leather jacket or leather pants to your rotation might be that Romeo Must Die touch your wardrobe's been missing.
Throw on some shades
Who can forget that iconic One in a Million cover? Aaliyah posing on a dark subway platform sporting the darkest of biker shades. Or how about the singer mean-mugging behind a pair of square sunnies on Age Ain't Nothing But A Number? Or those oversized, red Gucci sunglasses everyone was obsessed with.
The key to Aaliyah's success in this department is versatility. From Matrix-like to sporty aerodynamic options and colorful tints, the lesson here is, rather than limit yourself to a single pair of shades this summer, don't be shy to step outside your comfort zone and try something different.