When it was revealed that ERL's Eli Russell Linnetz would be working with Kim Jones on Dior's Spring 2023 capsule collection, the entire Highsnobiety team got excited.
Since its inception in 2018 we've seen ERL dress everyone from Kid Cudi and A$AP Rocky, to Hailey Bieber and Bella Hadid, and it has quickly become one of the most exciting emerging labels to watch. It was only a matter of time before one of the luxury giants would snatch up Eli, and tap into his imagination for a collaboration.
Over the past few seasons, Dior has collaborated with plenty of artists including Hajime Sorayama, Kenny Scharf, and Peter Doig, so it felt refreshing to see Kim Jones turn to a young designer this time around.
On the runway we saw new iterations of ERL's signature Wave hoodie, all elevated with luxury materials, of course, as well as the label's recognizable quilted designs, both across jackets as well as bags.
Dubbed "California Couture," the collection took inspiration from ERL's Venice Beach heritage – especially when it comes to skating.
Models paraded down the runway in chunky skate trainers equipped with thick laces, reminding us of back in the day when we were all rocking DC shoes. I never learned how to skateboard, but ERL's Dior trainers might just make me learn.
The level of detail across the shoes is astonishing. Each layer has been carefully crafted with small logos, intricate materials, and innovative designs to create the final product, which showcases Dior's incomparable craftsmanship.
Of course, there were also plenty of new Saddle bags on the runway.
The signature Dior silhouette got reimagined with ERL's padded design and equipped with a chunky gold chain (already seen on Kim Kardashian's Instagram!), and made into an array of colors including bright pink and baby blue.
There were also glitter versions of the bag – and tiny ones, too.
The micro bags were worn like necklaces, or as crossbody bags with the accompanying gold chain.
Chokers in different materials and colors popped up in a few of the looks, and we also spotted statement sunglasses, some really good ties, and plenty of hats.
There were caps sporting the co-branded ERL x Dior logo, as well as structured hats that almost look like they have ears, sock-like beanies, and fluffy bucket hats.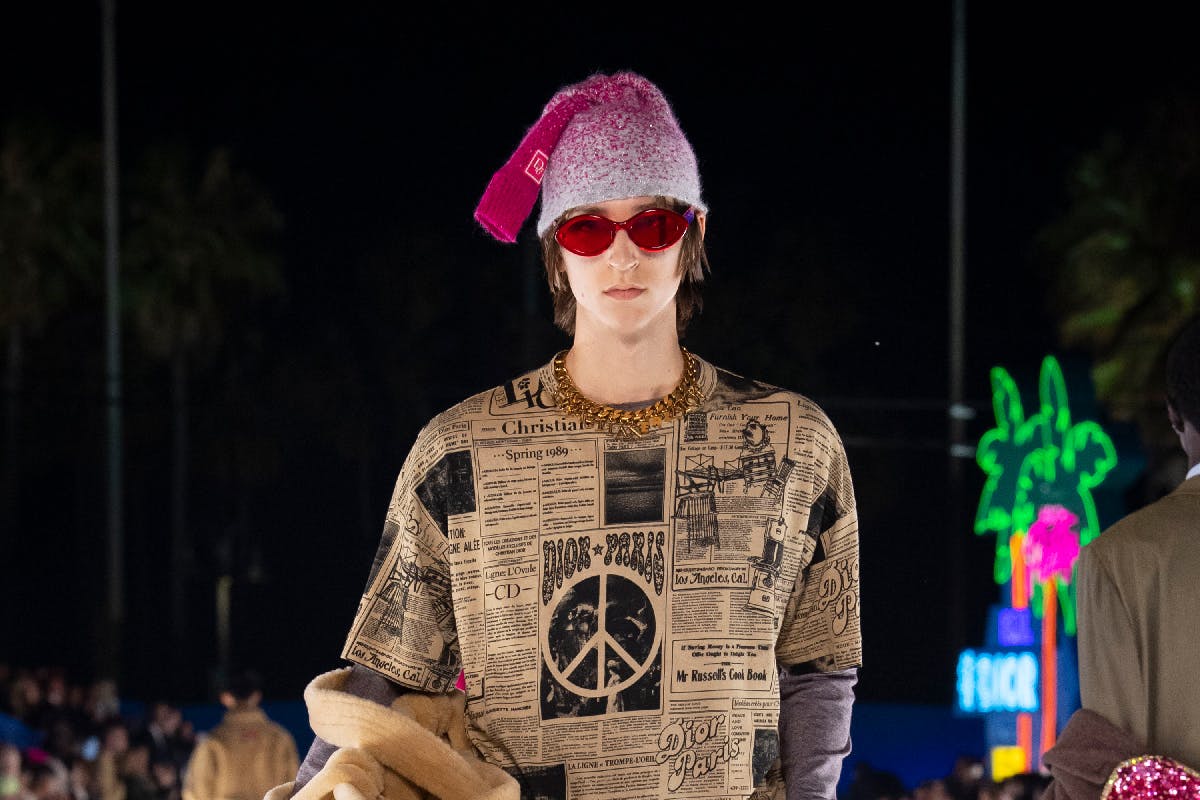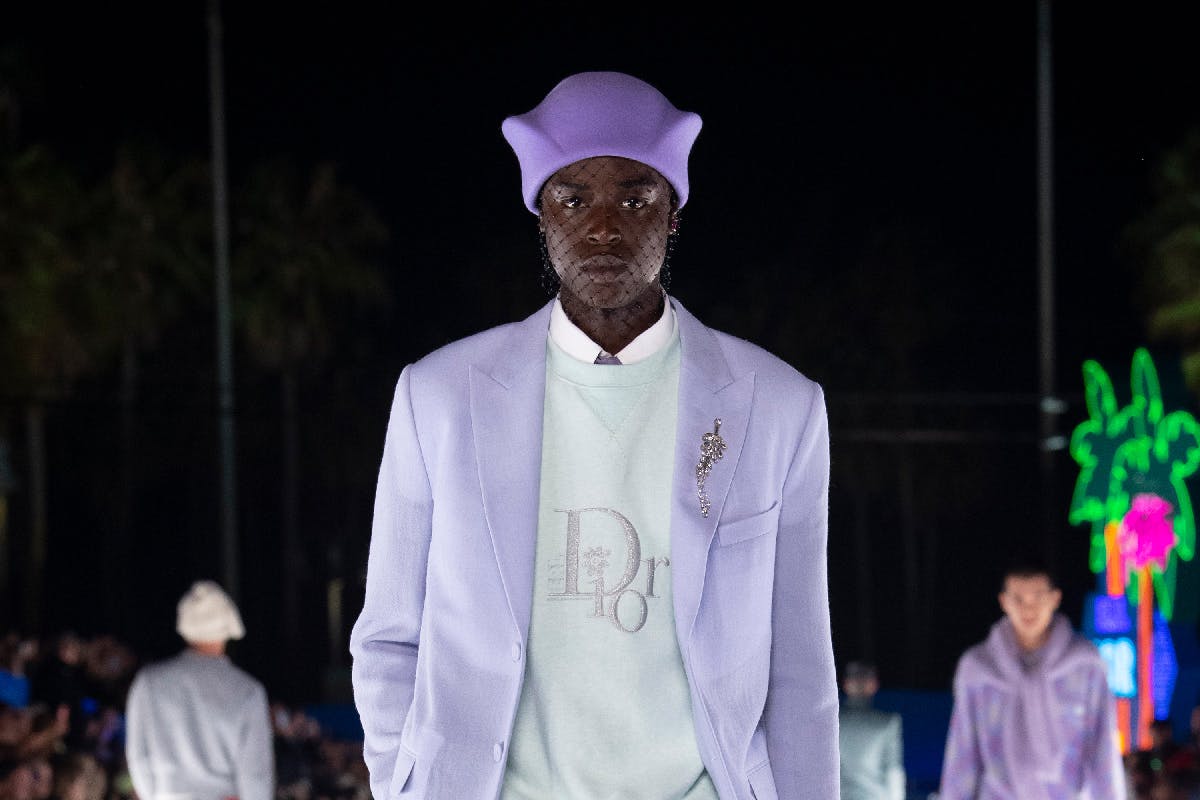 Lastly, we also saw the same sparkly material that appeared across the apparel turned into long scarves. One was worn with a bare chest, which only kept me thinking about how scratchy the material must feel. Anyway, it looks stunning – who cares about comfort!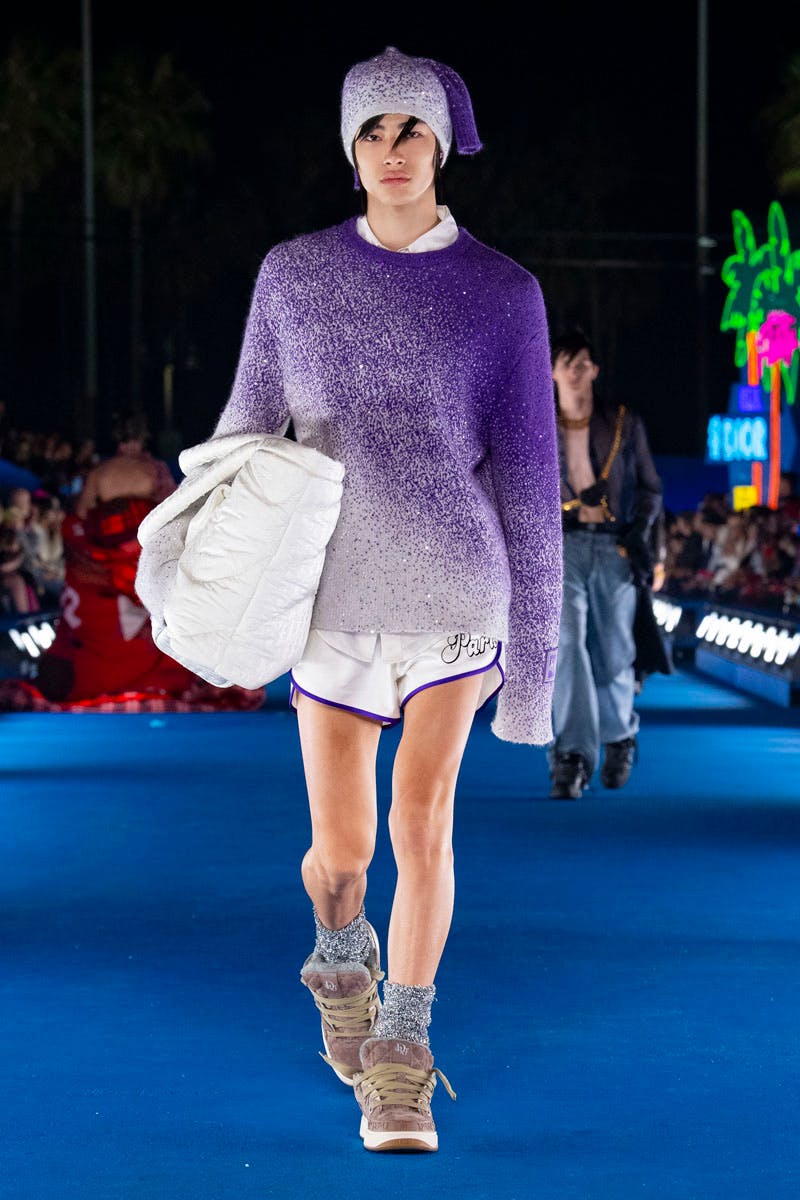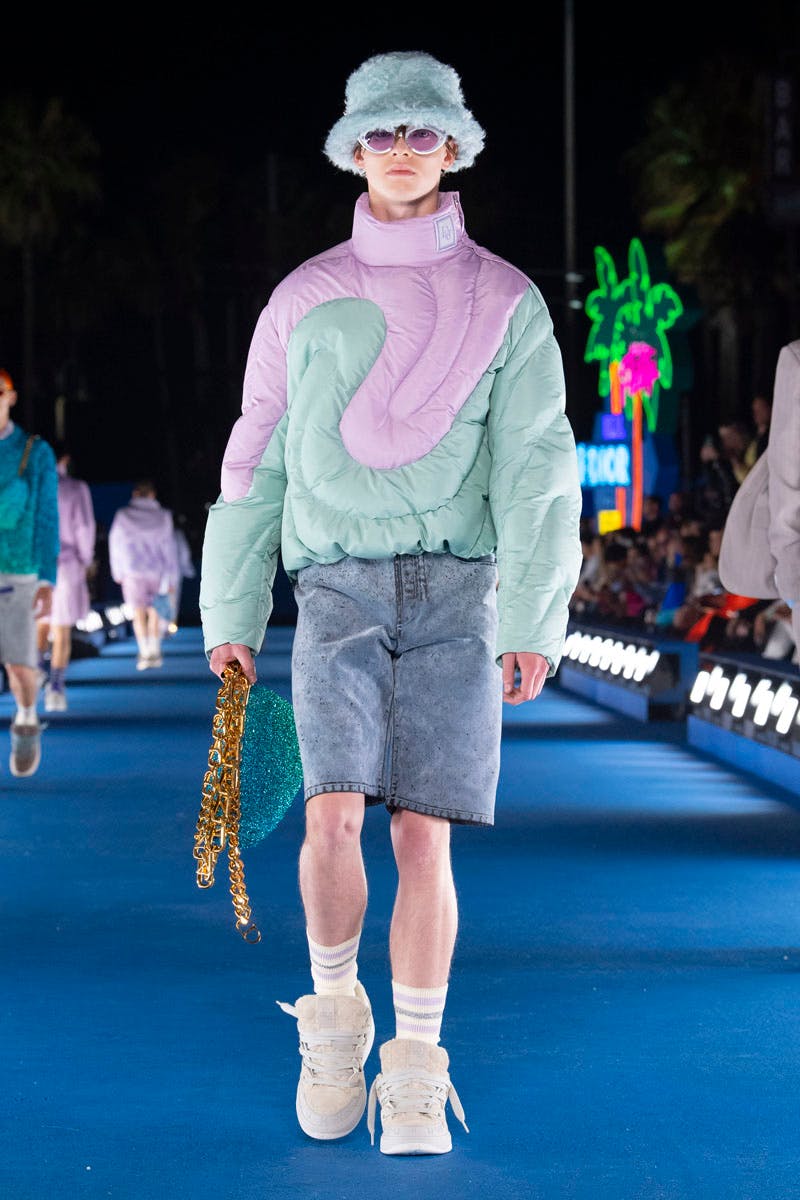 Needless to say, ERL took Dior to a whole new level and breathed new, youthful life into the label. The whole collection was a play with colors, textures, and materials, and it has already been an instant success on social media and amongst fashion lovers all over the world.