"East, West and togetherness."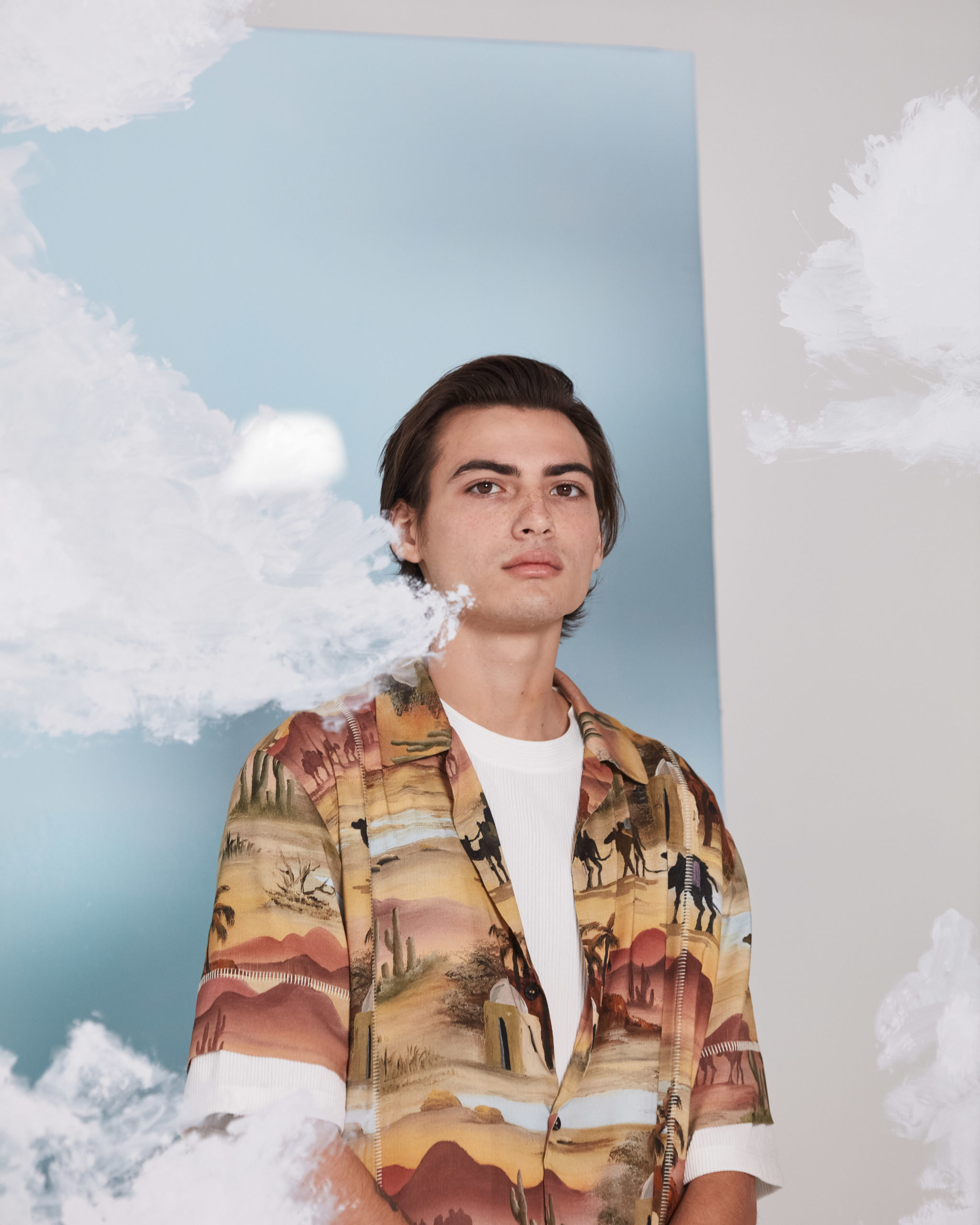 Combining elements of Eastern and Western culture with the antiquity of the Silk Road, Istanbul-based brand Les Benjamins present their Spring/Summer 2021 collection for your perusal.
A follow-up from the label's first delve into activewear, the collection looks to "retell a story through a new narrative," with an expansive range of menswear and womenswear pieces elevated with luxury design codes. Enlisting the talent of London-born artist, Neil Raitt, standout pieces include a pair of utility pants featuring the creatives' depiction of the Eastern landscape and a luxe bomber jacket donned with the houses' monogram print.
Further offerings include a slew of t-shirts, printed denim, dresses and viscose shirts, the drop embodies a regal colour pallet with sandy beiges and oceanic blues inspired by the historic trading routes of the East.
Check out the label's spring/summer campaign alongside our interview with Creative Direction, Bünyamin Aydin below. The 'Silk Road Services' collection will be available in over 90 worldwide retailers and online, February 22nd.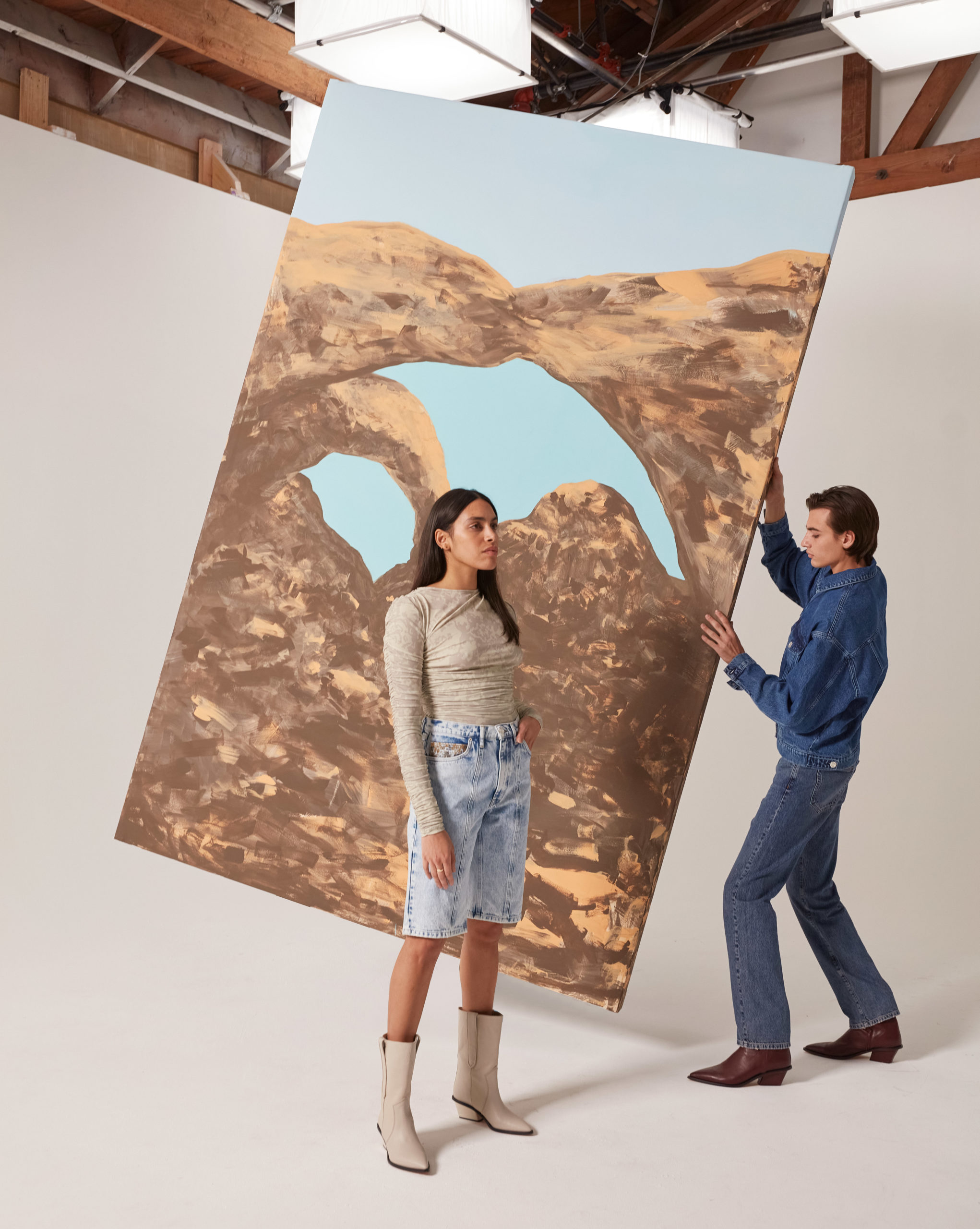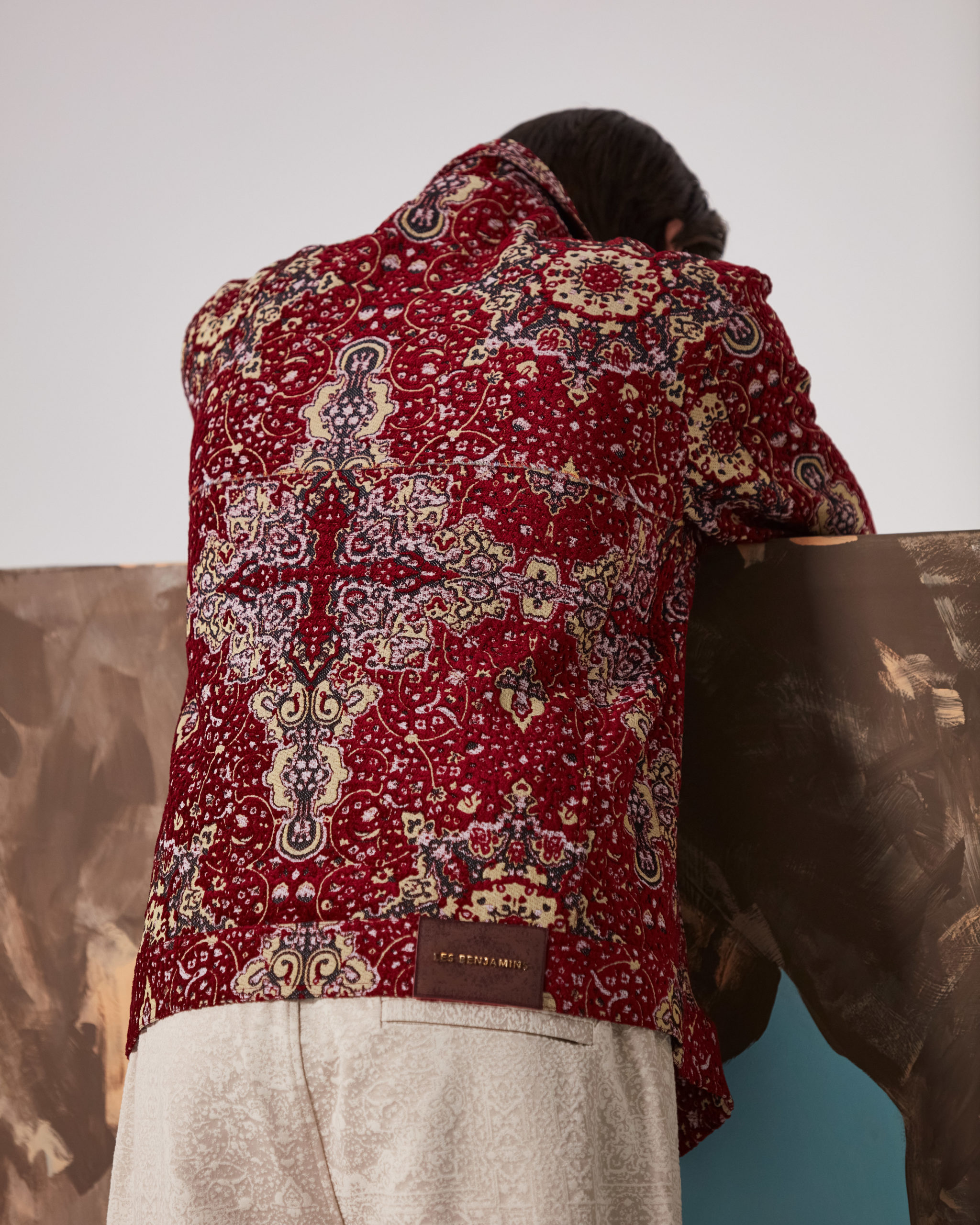 Hey Bünyamin. Thanks for joining me today!
Hey! Thanks for having me.
Congratulations on the launch of the collection. You must be excited?
So excited to be honest, especially during this time with everything being omitted and difficult
SS21 takes inspiration from the desert and sea trade routes of the Silk Road. Tell us about the design process. Who inspires you and where do you look for inspiration more generally?
For me, building Les Benjamins has always been a way to retell a story through a new narrative — especially Eastern stories. I was born and raised in Germany and Switzerland; am of Turkish heritage, so I was always curious about not just Turkey, but the entire East. Combining this with Turkey's travel-filled past, I learnt that a lot of Turkish and Eastern culture is mixed with the rest of the world; it's fair to say we have a lot of common things. The Silk Road is one of the most exciting and historical trading routes because they would not just trade goods and garments, they would trade ideas. I feel like, with Instagram — especially with COVID — is now the best way to share ideas. Comparing this to the past, I was like "what was the Instagram or Club House back then?" — It used to be the trading routes. When I designed the collection with the team we really delved into the heritage of the Silk Road, my designs aren't very literal but they are inspired by the story.
The things that inspire me are definitely the desert and water path, so in the past, when they were trading they were on camels and on top of the camels the sandals had carpet tapestry details; the tans had trimming which I used on denim and sewing details. The vase of the water has been used as a stitching detail on denim pieces.
When you look at my designs, you see the inspiration that is part of the narrative but at the same time, its art. It doesn't have to be that literal.
I read your parents were in the fashion industry for over 40 years. What have you learnt from them?
My mother actually had a boutique concept store where she did a lot of the buying from Italian brands. From here, I saw how a lot of brands built their collections, how they presented collections — it was a big learning curve. My father focused more on the fabric and production side, he was one of maybe 3 or 5 people in Turkey that were very knowledgeable about fabric. He allowed me to really learn, he could touch the fabric and tell you how many grams and blend it was without looking at the label. Learning this from him and my mother's buying experience really helped me.
Since my childhood, all my friends from Middle School and High School will tell you that I always wanted to be a fashion designer. Overall, I'm very lucky to have grown up with parents in the industry.
This links nicely to my next question. Tell me about the prints and fabrications used for this project? And Why?
I collaborated with this painter (Neil Raitt) from London who is deeply inspired by Bob Ross. When I saw his work I was mesmerised and was like "this could really go on a Hawaiian shirt," So I reached out to him through a common friend, and I asked if he could paint the Silk Road with two things — desert and water. He replied saying that he could do it but had never drawn animals before. But he did it! We then scanned his painting onto a high DPI and translated it onto garments as an all-over print.
The key fabric for me is viscose which we have used on the shirts. It's my personal favourite because we all are stuck at home and want nothing more than to be at the beach!
You then went to study in Europe, has it impacted your designs?
I studied in Switzerland, which I then quit ha! And yes, I am a German citizen of Turkish roots which gives me the label 'German-turk'. I have the European side of me and I'm also proud of my heritage, I'm not going to deny it. My designs are really a mixture of West and East, well more East..
What was the event, or was there a specific muse, behind your latest collection?
One of my muses that I always reference back to is Baris Manco, a Turkish, psychedelic rock artist and Cem Karaca. I just love these two icons, they have that Eastern element but also the Western influences from Led Zeppelin and more.
It's not about the seasonal collections but it's about the style of Turkey in the '70s.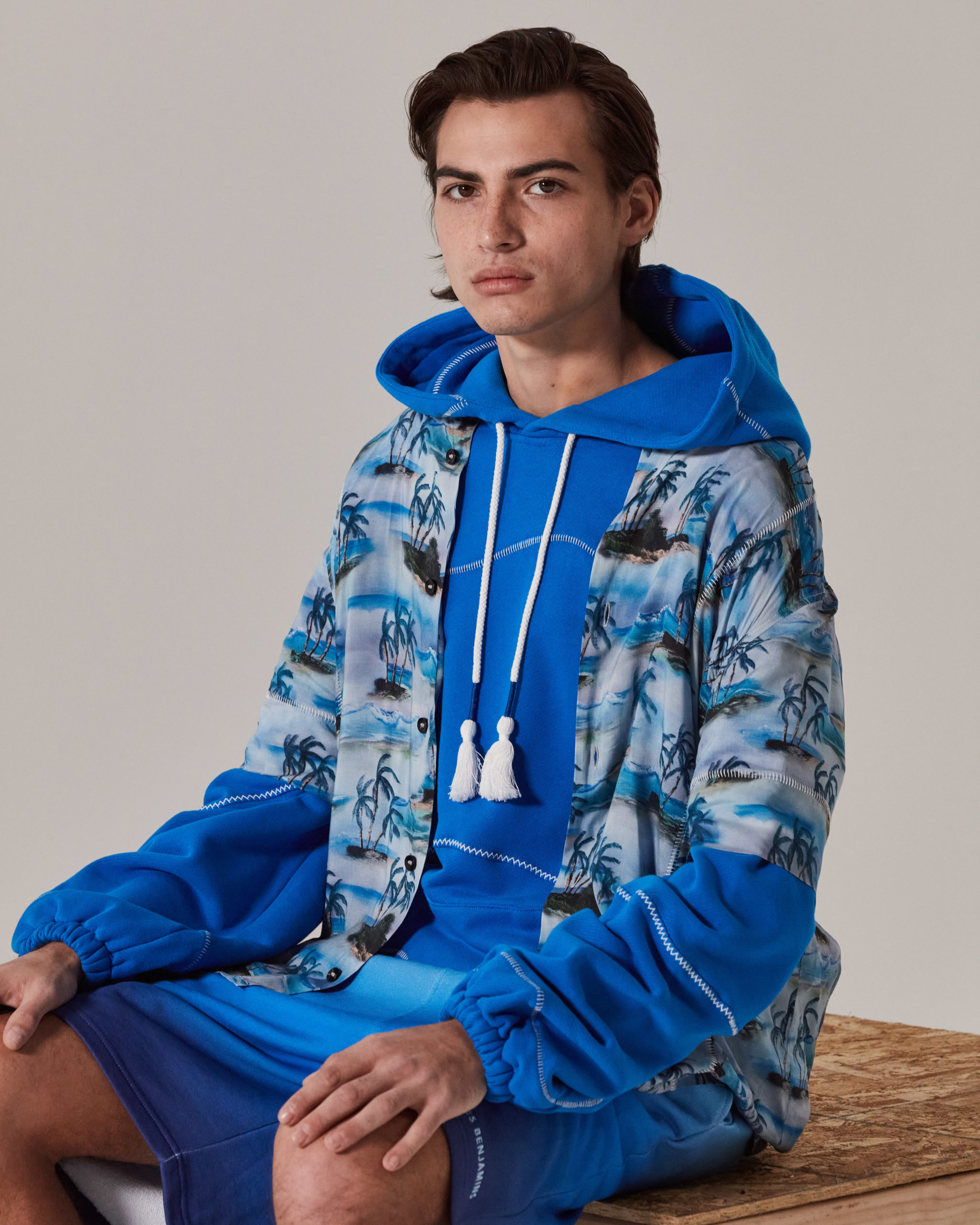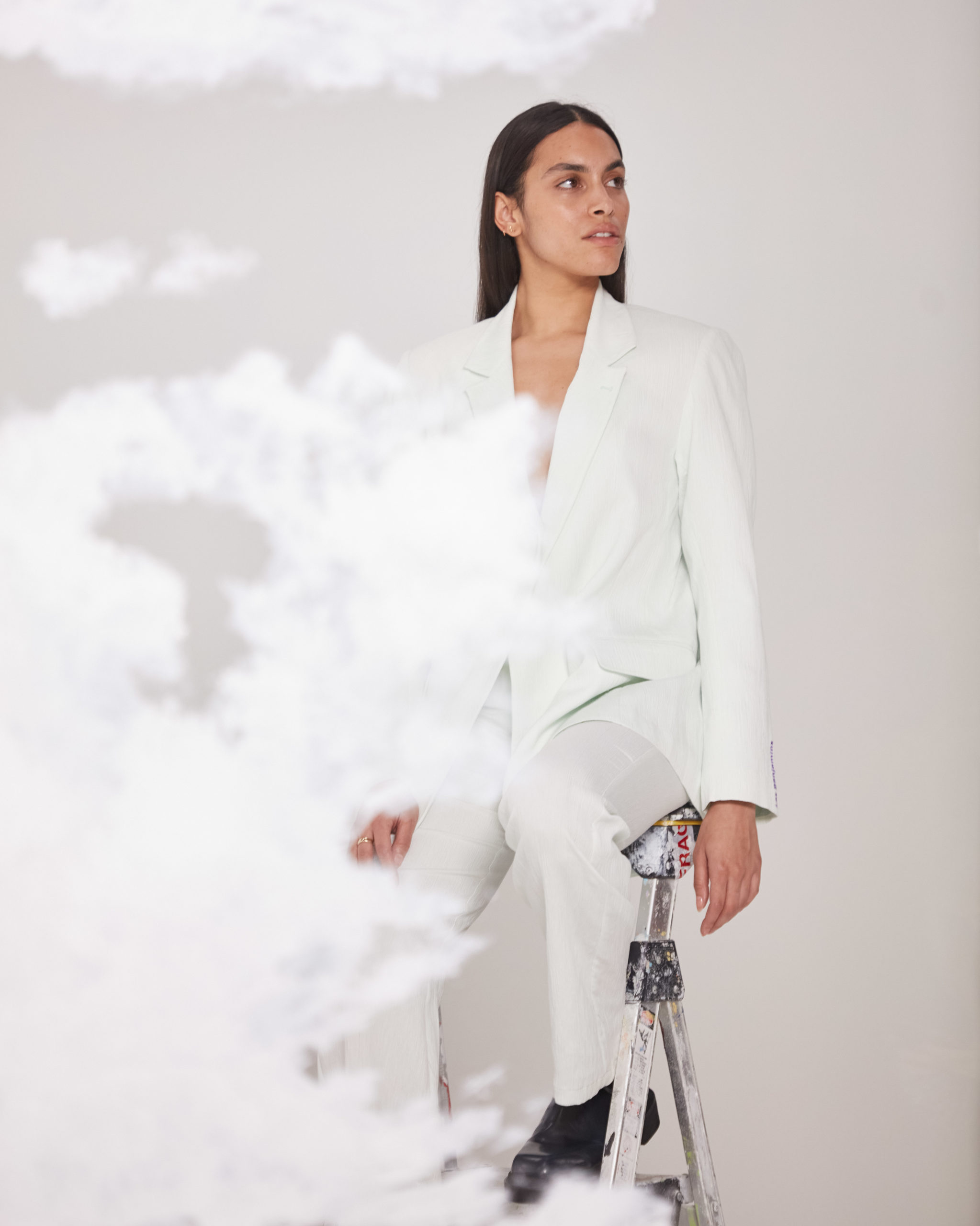 What has been the biggest challenge since COVID-19?
I've had multiple challenges, but the first was asking myself if the world needed another designer. This is a challenge that I guess most designers face and it's the most humane approach which I think all designers should have. The world already has so much waste, 99% of all garments are trashed and only 1% is ever recycled; and I'm not saying I am a sustainable person but we all have these thoughts.
I questioned whether what I was doing was essential, but when I think about the 50 team members at Les Benjamins, who all feed their families, you realise that this is an industry and a lot of people enjoy fashion. It also feeds a person, which is what really motivated me. Thinking about the way we consume, we have to consume more responsibly. We have to design less, wear less and be more timeless — it's definitely affected my aesthetic.
The second challenge for me is the COVID related fashion calendar and shows. It's been very different and to be honest, I think that fashion shows are the most wasteful moment for the sake of ten minutes. What could that money be spent on instead? It's a bipolar thing because as a designer you want to do it, but I think the approach has changed. I love how designers are doing campaigns, shooting outside and supporting models.
We have to change, we cannot move away from it completely but I think we can be more responsible.
Here's a tough one! What three words would you use to describe the entire collection?
East, West and togetherness.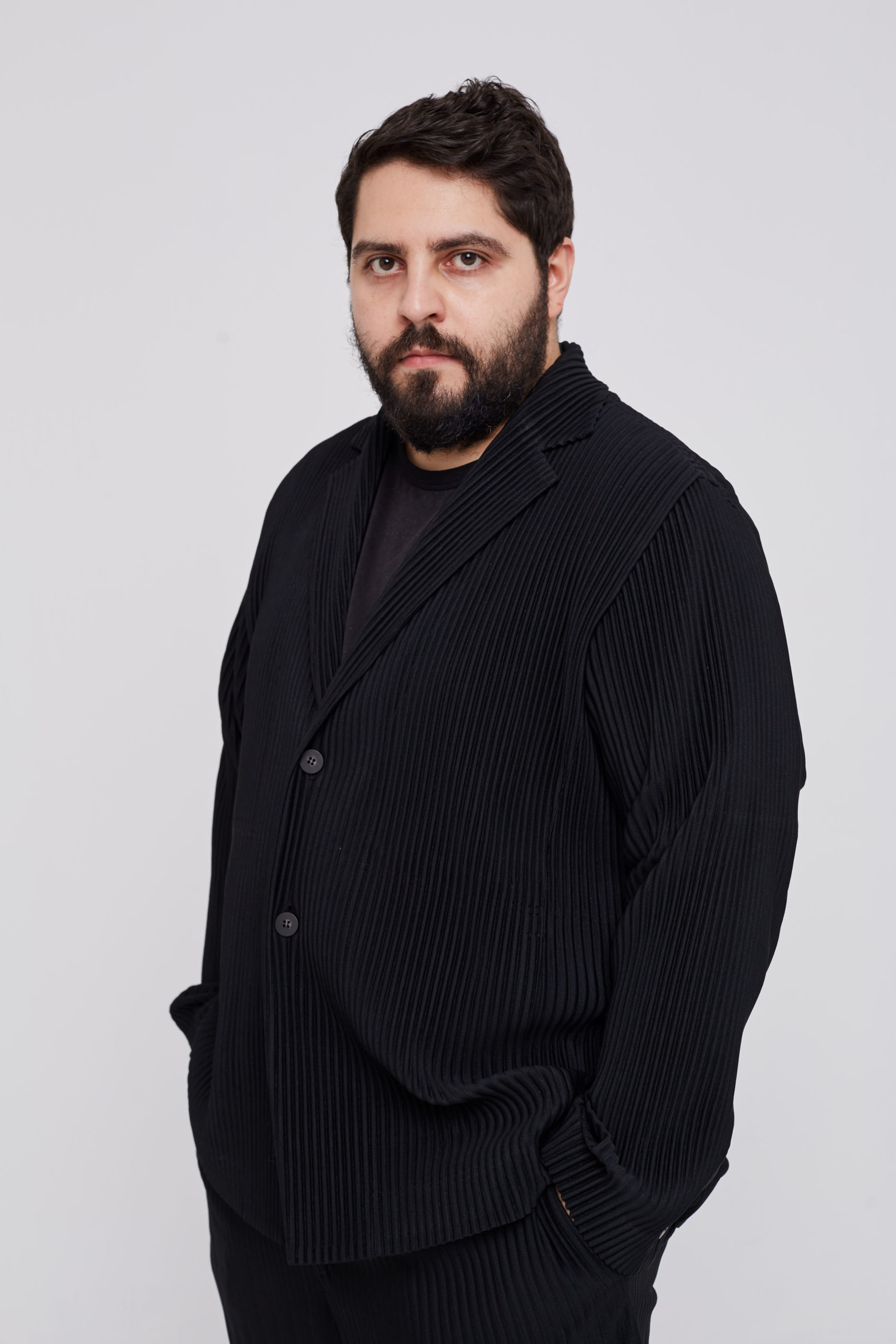 How does your design process differ between Menswear and Womenswear?
That's a great question, my wife actually designs the womenswear and I do the men's. We both have different approaches to design and sometimes I don't like what she does, or she doesn't like what I do. At that point, we both sit down and bounce off the ideas and now, we have finally found a way where both menswear and womenswear speak to each other; at the same time, they both have their own separate voice. It's a harmony.
As a whole, I see Les Benjamins as a family business, I see my team members as family too.
It's fair to say that many of the brand's previous collections are a hybrid of Eastern and Western culture. Has your heritage influenced the brand at all? Do you think this is important?
Heritage is very important to me. I'm a global citizen and I think that heritage can be dangerous sometimes and you can become too nationalistic. I think heritage is something that you should look at and be proud of but not something that defines you. Les Benjamins is influenced by heritage, but also has influences from street culture and trends.
I was a grandson of an immigrant and a lot of people from Germany are immigrants – their heritage is different. Their grandfathers took a risk to travel out of their own country with the hope for a better life for their children. I want to praise this and tribute to their heroic move of going to another continent and giving them a better education and life for their children. That bravery inspires me to design and it's a great balance between heritage and a global movement where it's welcoming and not saying "no you can't wear orientalism, or you like the Eastern culture," it's about inclusivity and giving a voice to us as well as understanding each other.
What is your favourite piece from the collection?
The most important piece is the Les Benjamins monogram carpet print which I have been doing for the last seven years. This season it's translated across bomber jackets and a dress, this is the DNA of Les Benjamins.
Last year you secured your first collaboration with Coca Cola; do you have your eyes on any other businesses that you want to partner with?
To be honest, I feel like the collaborations are being saturated. I think less is more and really doing meaningful partnerships is essential. I'm not really looking at fashion brands, it would really excite me to do something with tech companies and to innovate and drive the future. Maybe 3-D garments? There is a lot of movement when it comes to creating products from biodegradable plastic, like sneakers. I'm interested in how I can collaborate with a tech company to create clothing and apparel.
I'm curious about this kind of stuff. Why not collaborate with a company like Tesla? Who are so innovative and are trying to change the things of today.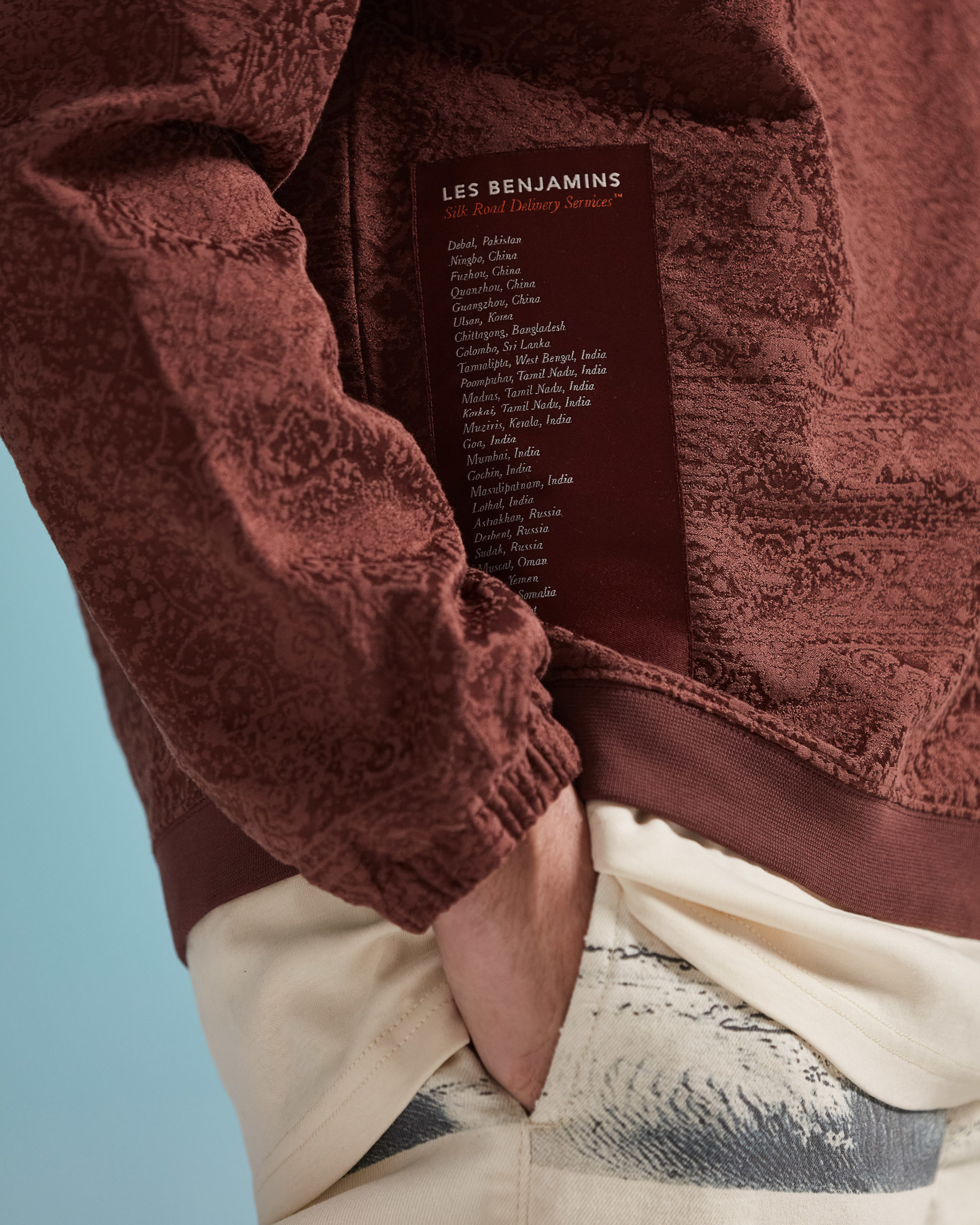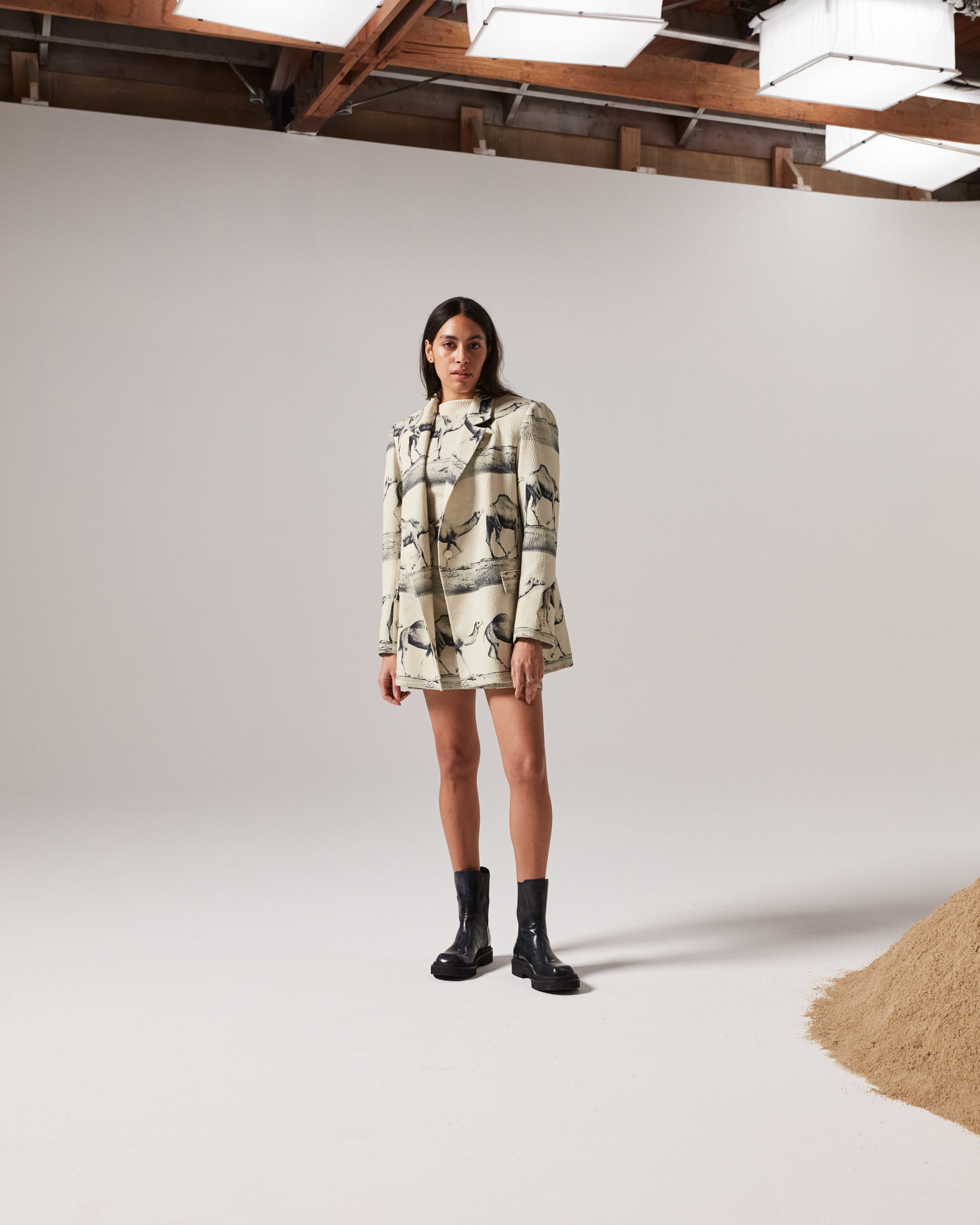 As lockdown restrictions begin to ease around the world, what are your hopes for the fashion landscape?
My hope is that young designers will survive this very difficult time; they are really suffering the most. They're going through the challenge of having to work to feed themselves but also not letting go of their dreams. I emphasise with younger designers and I hope that this period will be over as soon as possible. We are losing a generation of creatives.
What does the future hold for brand Les Benjamins? Where do you see the brand going next?
We want to open our Berlin store, which is launching in October/ September this year. It's very exciting, we're actually moving over to Berlin which is also very exciting, it's a lovely city. We plan to expand from there, to be honest, maybe London or New York?
So lots of plans to travel!
Definitely lots of plans to travel because there aren't many brands that have our kind of story. There is a demand for it or at least, a need for a platform. Les Benjamins is not just about our designer clothes, it's about doing collabs and bringing artists to the store. Daniel Arsham came to Istanbul in partnership with the Mosaic Art Foundation and we brought Daniel for the kids to meet him and we also did the "Friends and Family" T-shirt. It's not just about Eastern artists but also bringing Western artists to the East.
Les Benjamins is a bridge to bring together the culture.